this service
Gutter Cleaning

We are specialists in
G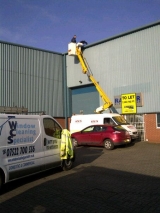 utter cleaning for all types of residential and commercial properties, so for Commercial gutter cleaning or residential gutter cleaning call us.
We are experienced in gutter cleaning, ladder use and maintenance,
and we can Therefore help you with all your guttering needs.
If you have blocked gutters?
then look no further than window cleaning specialist
we can provide a reliable service to have your rain gutters running like they should be. in no time at all.
Q. How much will it cost if my gutter needs cleaning?
A. Well it's hard to say as all guttering are different sizes and different lengths different heights, so it would be best for us to call to look at your guttering at your convince and give you a
free no obligation quotation you will be surprised on how cheap we are
call us today on 07522 700 556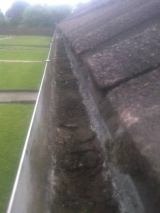 As we have been cleaning domestic & commercial gutters for a long time Now
We have seen some real bad gutters
now with the heath & safety getting stricter
those Impossible reach gutters with a ladder can now be cleaned
with the new gutter Vac
working from the ground commercial gutters we clean them all
with our state of the art Gutter Vac
In a matter of weeks, leaves and other debris will start to gather in your rain gutters.
Most home-improvement experts recommend that you clean out your gutters every spring. Clogged gutters can cause so many woes
that it's worth your effort to clear them or install guards to block falling debris.
You can clean them yourself with a ladder and hand-made scoop.
But if you're unwilling to do it, at least call in a service to handle the job.
Here's why.
If you have siding, continuous leaks from the roof can warp them or create mold issues that affect your entire family.
Pooling water in your gutter can rust metal gutters or rot wooden ones.
In the worst-case scenario, clogged gutters and faulty drainpipes
can funnel runoff down your exterior walls and into your foundation.
Freezing water in winter can actually crack the foundation
and then you have real expenses.
also there is a risk of
Legionnaires disease
with
The Stagnant water left in the guttering's for long period of time
Why let your gutters get blocked up and risk possible damage to your home.
It is important that you maintain a free-flowing gutter system.
Gutters concentrate the dirt and this can build up quickly if the flow of water is restricted by leaves or twigs. Bird's nests also can effectively block the guttering or downpipes.
We recommend you have your gutters cleaned at least once a year to keep them in good condition and free flowing.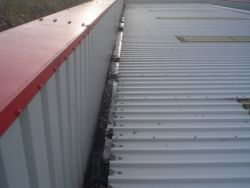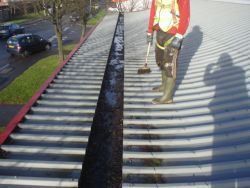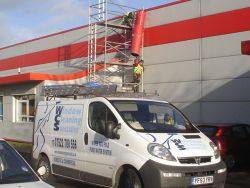 Why not clean the gutters yourself?
Each year there are over 3000 serious domestic accidents involving ladders. Don't risk serious injury or even your life cleaning gutters. Call the professionals.
Who do we clean gutters for?
We provide gutter cleaning services for residential & commercial properties in Walsall, from a small terraced house to large shopping centres, office blocks, schools and colleges.
We provide a gutter cleaning service that will take care of all your worries.
We remove the dirt and debris from the guttering, to ensure the water flows
away correctly

we can also wash down the outsides re moving all the dirt & algae.
All of our pricing is very competitive and as with all of our services we guarantee 100% customer satisfaction!
Call 07522 700 556
Using the Window Cleaning Specialist mark and other Window Cleaning Specialist. Intellectual property such as logos, slogans, trade dress, and graphic symbols on packaging, products, or services requires express written permission from
Window Cleaning Specialist.
Use of confusingly similar or disparaging terms is a violation of our intellectual property rights.
©2009 - 2012, Window Cleaning Specialist. All Rights Reserved.